Hey, I'm Lacey! I'm excited to start coaching with you! 
As your coach, my goal is to help you become stronger, more confident, and understand exactly what you can do every single day to guarantee you reach your goals, whether you're just starting out on your nutrition and fitness journey or you're wanting to push it to the next level.  

I struggled to lose weight for years, dealing with the shame and disappointment of countless failed diets.  Through A LOT of struggle and perseverance, I learned how to stop battling with my food, love who I am, and enjoy life in the process, and I am here to help you do the same. 

I am also a mom of 4 and own my own 6-figure business, so I get the additional challenges life can hold for us busy parents, and I can help you stay motivated and on track to succeed.

Let's get started!
APPLY NOW!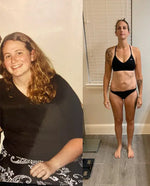 Let me help you, too
I understand the complexity of being a beginner to nutrition and fitness, and the battle to overcome feelings of doubt and insecurities, unlike other Training Programs and Fitness and Nutrition Coaches. 

Having lost over 250 pounds and having four children, I learned how to lose weight and and still enjoy the journey of weight loss, and the beauty of a cleanish lifestyle.  In fact, I have helped thousands of people via my informational and supportive YouTube channel and my Health and Wellness Blog, A Sweet Pea Chef.

My genuine and realistic approach enables my clients to gain the necessary confidence to stack small, consistent choices to create significant, lasting change.  
APPLY NOW!
Let Me Help You Finally Take Control Of Your Nutrition, Fitness, And Motivation. 
Together, We Will Create A Plan For You To Reach Your Goals, And I Will Be With You Every Step Of The Way
APPLY NOW!
WHAT'S INCLUDED IN COACHING?
With coaching, I do an in-depth eval of your current status (nutrition, fitness, activity level), and then I create custom macronutrient goals and fitness protocols to reach your goals in a sustainable, progressive way. 
These protocols include the custom macros, custom fitness plans (made to suit your current physical needs, level of expertise, and access -- or lack thereof -- to gym equipment), plus daily step recommendations. 
We'll meet on a video call at first to complete your Initial Intake, and then we check in virtually via WhatsApp every week on Tuesdays. In these weekly check-ins, you will provide your updates (answering my list of weekly questions), and share progress pics (I'll teach you how to take them), and then I assess your body composition, and make changes as needed on an ongoing basis. 
There's often a lot of questions at first, and I'm available 24/7 via WhatsApp to help. I'm here to make sure you feel confident that you're following a plan that will get you results, and I'm committed to working as hard as you do.
I'll also ask for fitness videos, especially at first, to assess your form to ensure you're getting the most out of your workouts and avoiding injuries.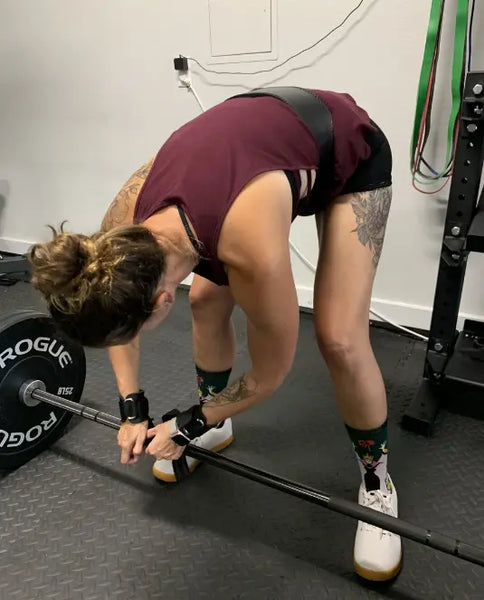 HOW DOES IT WORK?
Once you complete your application, I will reach out to you with next steps. After you're signed up, will schedule a 30-minute Initial Intake call where we will discuss your current status, goals, your unique needs, and I'll explain in detail how the coaching relationship works. You will feel confident you have a plan that will work for you, and the support to remain accountable.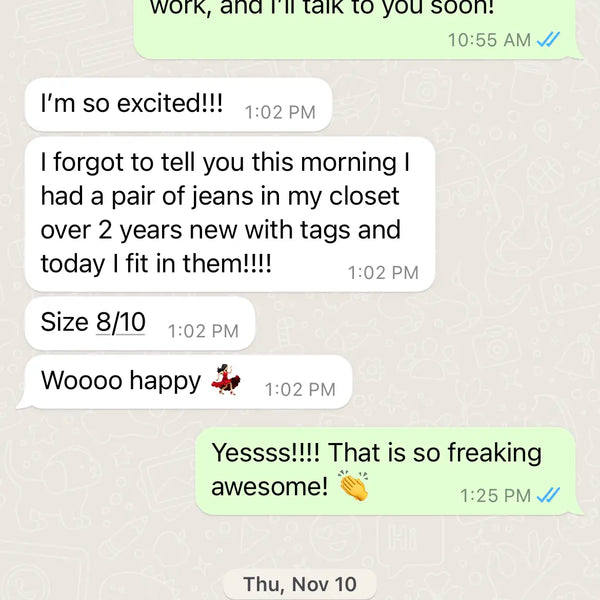 DIRECT SUPPORT & ACCOUNTABILITY
My help doesn't stop after our initial call. As a coaching client, you will receive direct access to message me 24/7 via WhatsApp, and we will have weekly check-ins where I assess your body composition, weight loss, and make changes as needed. You can ask questions any time about fitness, motivation, nutrition, or motivation. You'll have someone in your corner, available any time to help you stay motivated and on track.
WHAT MY CLIENTS ARE SAYING
5

THE BEST GIFT FOR YOURSELF

This is the best gift I could have given myself the gift of knowledge, science, accountability, nutrition, and health! I relate very well to Lacey, her program, and feedback. This plan doesn't have to be perfect to wonderful! Loving the cleanish lifestyle and looking forward to more change in the months ahead! Couldn't have done it without this support and coaching!

Jen C.

5

THE BEST PROGRAM I'VE TRIED!

Lacey is kind, knowledgeable and reasonable! She caters the coaching program to your needs. She answers questions and makes modifications specific to your body and capability, with a plan to always improve. Better than yesterday is more than a slogan ….it's a mindset for a happy balanced life! Thank you Lacey.

 Mary V.

5

ONE OF THE BEST DECISIONS I HAVE MADE

I have been on the fence about getting coaching for a long time now. Lacey's realistic approach to helping me, someone with multiple jobs and 4 kids, has been a lifesaver. She pushes me when I need it and offers support and understanding when I am stressed and helps me get back on track. I have lost 12 pounds and tons of inflammation from when I started 4 months ago in a lifestyle I feel like I can sustain without starving myself. 

Dustin B.

5

ENJOYING THE PLAN!

I have been on so many diets and have learned some really bad habits of chronic dieting. Lacey coaches you to eat whole foods. Her weekly check ins make you always think and stay in the present moving forward. I absolutely love her video check in response . I'm really impressed with her fast responses whenever i have a question! I love that she does the macros for you such a big help. I'm happy to make this finally a lifestyle .

BERNADINE P.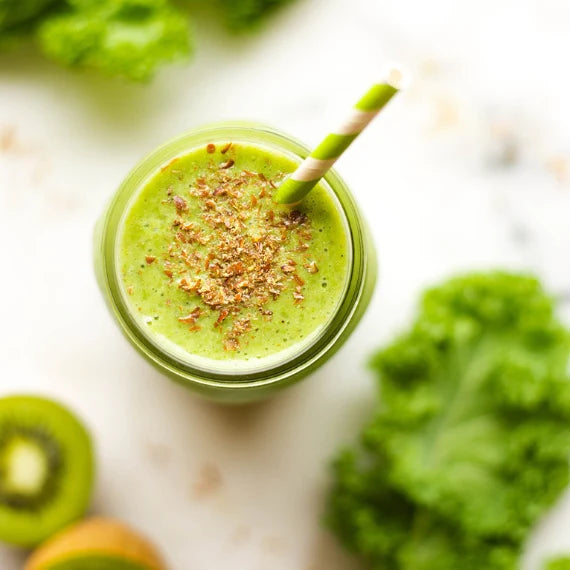 FREE ACCESS TO MY ENTIRE NUTRITION LIBRARY
Coaching Services provides you with unlimited access to the Nutrition Library ($129 value), which contains: (1) 14-weeks of anti-inflammatory, delicious meals and snacks, (2) Easy recipes to help you feel energized, less inflamed, focused and excited! (3) Easy and filling snacks that give you energy, taste great, and fill you up to avoid that mid-day snacking, AND (4) Balanced meals that are delicious and healthy.
FREE CUSTOM MACROS (AND RECALCULATIONS)
As part of the Intake and Assessment Phase of Coaching, I will personally calculate your custom macronutrient needs ($39 value) and provide expert recommendations, including (1) Macronutrient and total calorie breakdowns to reach your goals, (2) Specific amounts and percentages of carbohydrates, protein, and fat to target as part of a well-balanced diet, (3) Recommendations for pre and post workout nutrition. I'll also help you learn how to track your macros, and offer suggestions for enjoying the process more as you learn.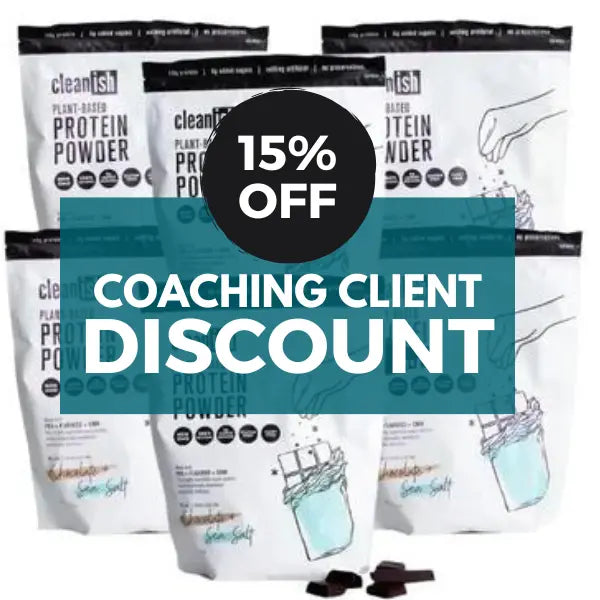 EXCLUSIVE 15% DISCOUNT TO CLEANISH.COM
As my coaching client, you will receive an exclusive discount code for unlimited 15% off cleanish protein, coffee, and gear.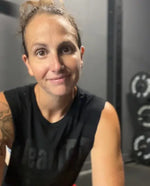 I would love to start working with you today. Click the button below to get started! 
APPLY NOW!
Frequently asked questions
Are you for real? Will I really be working with Lacey?

YES, I am definitely for real, and you will be working directly with me. I don't outsource any of my coaching, and our conversations go directly to my phone and only my phone. We will have a one on one call right after you sign up, too! :)
What qualifications do you have to be a coach?

I have been certified by the International Sports Sciences Association (ISSA) as both a Certified Personal Trainer and a Nutritionist. I also have a M.S. in Psychology with a specialty in counseling. In addition to that, I have personally lost over 250 pounds during my weight loss journey, have helped thousands of people via my Youtube videos, clean-eating recipes on my blog, A Sweet Pea Chef, and my cookbook, Clean-Eating Breakfasts and Lunches Made Simple.
How is this different from your digital programs?

The digital programs I offer are not custom to your unique needs, and they don't allow me to really get an understanding of your unique needs and how to tweak things here and there to help keep you gaining momentum.  Many of my clients have started coaching with me after completing 30 Day Healthy and/or The Cleanish Movement. While those programs are very helpful and a great place to start, they are at your own pace and don't have as much accountability.